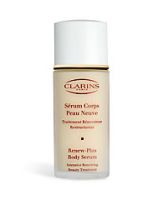 Clarins Renew-Plus Body Serum
As low as
Buy me a barrel!

I truly love this product (except for the price)does wonders for dry skin or even normal skin, wish I could soak myself from the neck down in it! Do NOT use after shaving!! Also use caution it is a glass bottle!

Looks great in the bottle, but did little for my skin.

The scent of the serum is nice, but I first noticed that it was a little too "thin." After application, it absorbed so quickly I wasn't sure I ever put it on. With regular use, I have noticed that my skin wasn't in worse condition, but I don't feel it lived up to the claim "Intensive Renewing Beauty Treatment." Also, not really worth the price.

Nice Scent

This product has a very pleasing scent. Its not iverbearing and seems to fade away within an hour. I like the absorbtion but think its a bit pricey. I used the whole container and didn't think it was any better than lesser priced body products. If you don't care about cost, this is a nice lotion. I would rather stick with my lower cost product and spend the money I save on something else!
Back
to top