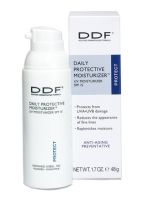 A thick moisturizer.

We should call this sunscreen b/c it really doesn't set well into the skin and is a bit thick. Yes, it works but its not your normal moisturizer with SPF.

A little greasy, not good for summer. Perhaps better for winter.

Moisturizes ok. No clogged pores or breaktouts. Wish it had higher SPF.

Use only a tiny bit and be sure to let it absorb

Protecting your skin is the single most imortant thing you can do to stay gorgeous! I BEG OF YOU, please use sun protection! DDF, or Doctor's Dermalogic Formula Daily Protective Moisturizer is a great choice. It's a UV protectant with SPF but goes on light and nongreasy and doesn't interfere with makeup primer or foundation. I do receommend that you give it about 5 minutes to settle into the skin ...read morebefore applying your other products. It has 4 different types of sun filters, and lasts all day (provided you aren't swimming, playin' Wimbeldon, etc.) They claim it's fragrance free, but when you first put it on, it does smell like old-school sunblock which can be a bit disconcerting, but the smell fades almost immediately. I carry their travel size in my ready to go at all times facial travelin' bag.
Back
to top