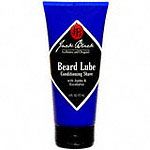 Not crazy about it

I got a deluxe sample of this for my hubby. He tried it and said it was just okay, and that he did not love the smell. Actually the fragrance bothers my allergies and makes me sneeze as well. It does contain potential irritants if you have sensitive skin. Not his favorite and a bit pricey for something less than fabulous.

Close shave

This lube provided a close shave but I felt I was lacking nutrients that I get from my favorite shave cream, which is discontinued.

This beard lube should be called "razor burn free lube"

I bought this for my husband and ended up using it myself as well. No female shaving cream found at the grocery store or drugstore works as well as this. It completely protects my skin from any nicks and cuts and I haven't had one experience with razor burn since I started using it two years ago!
Back
to top