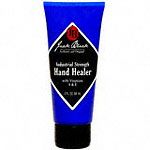 Sour?

I normally get L'Occitane hand cream but the rave reviews caused my stepping into ULTA to try this one by Jack Black. Maybe it was used my too many hands, maybe it was my expectations, and maybe it was because of both but this hand cream REEKED of sour wilted grass and it didn't feel too spectacular either. I'll stick with L'Occitane. It may be pricey but it does a phenomenal job while smelling nice, too.

The best!

This is not only for men! This non-greasy but very thick creme is not perfumy but has a hint of eukalyptus smell, and is basically a non-frills, heavy duty, does-the-job well done kinda creme. My hands absorbs this stuff immediately, and never feels oily, ever!

Don't care if it's for men!

Forget the fact that this lotion is geared towards men. If you have dry hands and get hangnails because of it, this lotion is the BOMB. Since it is for men, it is on the more earthy side when it comes to scent. It's almost like herbs with eucalyptus but not in a bad way and it fades pretty quickly. It absorbs very fast instead of sitting on your skin, so results are seen in just a few uses. Si...read morence it doesn't leave any greasy or slippery feel like many lotions can you are able to apply it and get right back to whatever you were doing.
Back
to top