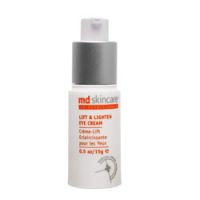 Dr. Dennis Gross Skincare Lift & Lighten Eye Cream
As low as
not for sensitive skin

burns my eyes and skin, don't notice much of a difference.

Great for dark, dry circles

I stuggled with my dark circles for years, but when I was introduced to this product, I noticed a difference within days. I am completely satisfied with this product, so much so that I panic when I am runninf out!

I didn't notice a difference

This product was recommended to me by an aesthetician at a spa for the dark circles under my eyes. It was gentle and nonirritating to my skin. That is about the best comment I have about it. I used it for 2 months and didn't notice any difference; in fact, at one point the circles worsened. I will not purchase this product again. I think cucumber slices work better than this formula!
Back
to top