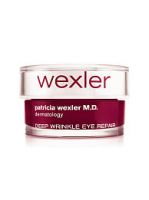 it burns

I like there other products this one makes my skin burn

Patricia Wexler MD, deep wrinkle eye cream is GREAT!

The eye cream is great. I have tried many different creams but this one for the money is the best I have tried. My under eye lines are just about gone. I use this product all over my face as well and it has been very nice. I rate this a 9. MN

My faith as been restored!

I have spent hundreds if not thousands on eye creams, eye serums, magic potions, home remedies on under eye creams that would fade the "crepe" look that had suddenly appeared last year. I read about this cream in a magazine and purchased it. I have to tell you it, was worth my time and money. It's really made a big difference in my appearance and I feel like I can laugh and smile again without thinking about how crinkly my eyes look.
Back
to top