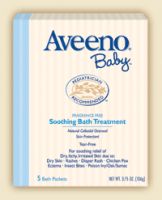 Good for the babes

I used to baby sit my nephew and he had happy baths when I washed him in this aveeno treatment. I know baby's skin is always soft but after these baths he was super soft, silky.

maybe better for grown folks.

I tried this a couple different times in my daughters bath and she dried up worse both times. The only thing that treated her dry skin was Triple Cream in the baby aisle. (Makers of Triple Paste for the diaper rash) Sorry Aveeno. I do love your baby lotion though!!!

21 Best Soaps

Exclusively from the editors at Total Beauty

Get the Buying Guide to see these top-rated products!

Get it now »

Great product

My 7 month old had a bad flu with diarhea and fever which caused a bad diaper rash. After soaking her in a warm tub with 1 aveeno package it soothed her immidiately. That and change the diapers often has made her rash dissapear within 24h. Thank you Aveeno!
Back
to top