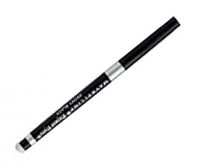 Smudgey

This liner isn't really anything special. For the price, the color payoff is good & it applies smoothly. The thing that makes me say I won't repurchase this is how much it smudges. This pencil liner definitely wont last you the day since most of it will smear and smudge off your eyes at a rather quick pace. It lasts a bit better with some matching shadow over the pencil, but I'd stick to a liquid liner.

average

I was lucky i got this at the dollar store because i would not pay any more then a dollar for, it's just an average eye liner and you could get a much better one at a drugstore. this one smudges and looks like a mess in little to no time if you don't set it with powder or eye shadow.

Eh,,..

Nothing special for a drugstore eyeliner even. It not bad but at the same time its not good. I like the intense pigmentation, although this liner does run quite a bit on my oily skin, making the bright colors look horrible after about an hour or so. Would not buy again.
Back
to top