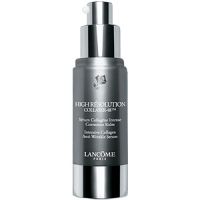 Nice packaging and aesthetics

Since I don't like to dip my fingers into a jar, this packaging is perfect because it's airtight, just the right size, easy to dispense nozzle, and sleek looking on my dresser. I like the lightly scented fragrance, not "old lady-ish" nor too "vitamin-y". As for the performance, it SEEMS to work only because of the aesthetics (nice feel, texture, smoothness and pleasantness). I'm not sure if it's worth the money since I still have fine wrinkes.

Biggest Difference in my Skin So Far

When I hit 40, it was as if my skin decided to show its age, so I turned to a girlfriend who recommended Lancome's Collaser-48. My biggest complaint was that my skin was starting to show signs of losing it's spring, thanks to less collagen production. I didn't have preconceived ideas of what benefits I would get, but after 3 months of using the serum consistently (twice a day), I pinky-swear that...read more it has given my skin a huge boost. The most notable improvements are in the overall smoothness of my skin, and lo-and-behold my skin really does look more radiant. Since starting with the Serum, I've also added the High Resolution moisturizer, by the way. I've had to hold myself back and use only the amount I should (i.e. size of a pearl). Remember to distribute it on your fingertips before applying to your face (it'll go further that way). As for price and value, I can tell you that I've gone back for more and pay the price. It's worth it. Tip - as you get to the end of the bottom, give it a few smacks with your palm which will force the remaining serum to the bottom so that you get every last drop out of it.

A Must!!!

I noticed a difference within days of using this product. It is so rich and smells nice. I am very diligent about my face routine-- noticed quite a change when adding this step. The lotion feels so light on your skin. Well worth the price..
Back
to top