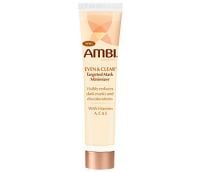 seems to be workin!!

i reently bought this product and though i havent been using it for a long time i do notice that the dark blemishes on my face from past acne are starting to fade slightly.. i know the product says to apply only twice a day but i have been applying at least four times and it seems to be working while keeping my skin smooth and soft!! : ) just to updtae its been 4 days and i did get a little lazy ...read morewith applying the product several times a day and now just apply in the mornings and at night but it seems to still be workin just at a slower pace than before! i have also began to apply it on other parts of my body where i have small discolorations that i would rather not see...i even got other people at work using it as well!!! i definately recommend this product...

Love It, Love It, Love It!

What more can I say about Ambi? This product works wonders....I have been using it since last year and I stopped for a minute because I went back to the Fade Cream. But, 2 weeks ago I decided to give it a try again when the fade cream ( I only do spot treatments), bleached the areas surronding my dark marks. I think the reason is because I spot treat before I go to bed, not rubbing the cream in. W...read moreell, the cream was moving from the spot. I use the Targeted Mark Minimizer at night now (while I sleep) and it works great!!!! I dab it on my spots and then go to sleep. In the morking, my skin has absorbed the cream and my spots are lighter! Try it and you will see.

I see a difference

I have combination skin and this does a good job of moisturizing my dry areas without making my oily areas greasy.