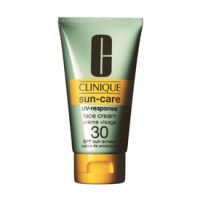 Great!

This is the best thing you can do for your face in terms of anti-aging and maintaining healthy skin. You should use a sunscreen everyday whether or not your moisturizer or makeup contains spf because most women do not put on enough with their cosmetics. This sunscreen does not irritate even super sensitive allergy prone skin, is not greasy or heavy, does not cause acne, and it does not have a st...read morerong sunscreen smell, only very slight--it does not have added fragrance. The consistency is that of a very elegant light weigthless cream that absorbs quickly although it is a little pricey. It is nice for everyday so you don't have to go around smelling like a beach while still being protected.

Great protection

I am rather religious about putting on SPF at all times. I think I have tried them all, but I really like this face cream. It is very thick coming out of the bottle, but does not cause me any breakouts (a real plus). I like that it has antioxidants, although I wish the tube was a bit bigger. I am running out of this stuff pretty fast. All in all though it is a great product and works well under makeup.

Worth it!

I've always hated sticky and greasy feelings on my face. I searched for a long time for a facial sunscreen that wasn't oily feeling and wouldn't make me break out. This is it! $15 may see a but pricey for one point seven FL OZ. but you don't go through it like lotion. It actually lasts a descent amount of time and is worth it! It also guards against premature aging which was another rising concern of mine. It's also water-resistant which is great. It is also virtually scentless.
Back
to top