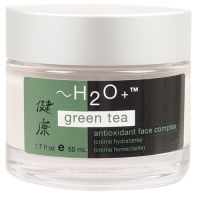 H2O+ Green Tea Antioxidant Face Complex
As low as
Editor's Rating & Review
A semi-strong alcohol scent and a department-store price tag make H20+ Green Tea Antioxidant Face Complex just short of spectacular. Green tea leaf extract helps this two-month supply of cooling, water-based cream impressively diminish the appearance of creases and fine lines with twice daily use. But dry skin types need multiple layers of product (meaning more application time) to get close to "powerfully hydrating" results. Also, while the sensitive skin formula absorbs quickly without spawning breakouts or leaving greasy residue, it curiously contains about 50 ingredients ... including fragrance.
Reviewed by Charli on 11/07/2008

How we review products
great

this product really gives you a natural looking face after you moisturize, its not oily and not dry either, it's really prefect! it has a nice smell that's not too strong and it really does keep you moisturized for the whole day. I also think this product helps calm my red skin areas. i recommend this product to everyone who wants natural looking skin. Also i noticed that after i use this product,...read more throughout the whole day my face is not oily around the T-zone, and it's very matte looking, which is a plus!!
Back
to top