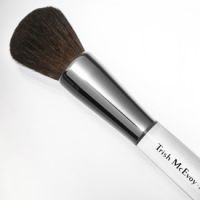 Trish McEvoy Luxurious Powder Brush #5
As low as
Overpriced Powder Brush

I agree that this brush is well made but I think the price tag is too high for this product. There are other brushes on the market that will give you the same flawless result. That being said, the brush has very densely packed bristles and is a great brush for those who prefer this; I personally prefer a brush that has bristles that are a little more loosely packed.

Powder Brush #5

I have the mini version of this brush and it's one of my favorites that I always like to have in my makeup bag, I use this for powder touchups [loose and pressed] and in a pinch to apply bronzer or highlighter as well. I have several of Trish's brushes, some are wonderful and some I wish I hadn't purchased but this one's a keeper. The bristles are soft and shed very little, however there is som...read moree shedding with all of her brushes and I find I'm occasionally flicking a stray black hair off my face after using this. I've also had some issues with the ferrule separating from the lucite handle but this brush has held up really well through repeated washings. Overall - highly recommended.

Wonderful brush

This Trish McEvoy powder brush is perfect. It gives just the right coverage and blending of your face powder. It may seem a bit pricey, but as any artist knows...you need a fine brush to make a fine work of art. With the $75 price tag it might scare you off. don't be! Look at it as an investment(a very good one). This brush lasts forever and gives you the power to perfect your face the way you want.
Back
to top