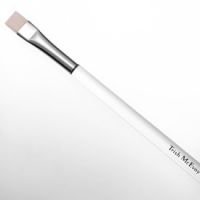 Trish McEvoy Eye Lining Brush #11
As low as
The famous "press and wiggle" brush

I've been using this brush for nearly 20 years. It was the first brush that ever allowed me to get a perfect, thin line directly next to my lashes! You do have to use the correct "press and wiggle" technique, though, and use it with Trish's wonderful Eye Definer powdered liner.

Love this brush!

I have used this brush for 5 years and absolutely love it. The person who previously reviewed this product must not be holding it correctly because while my lashline is also not straight, I don't have any problem using this brush.

#11

I've had this brush for years and struggled with it so unfortunately I can't give it a positive review. The application method is supposedly to hold it perpendicular to your eye and press the shadow liner as close as possible to your lashline. This doesn't work nicely for 2 reasons...1) my eye is curved, not straight, so the shape of these bristles don't conform closely to the curvature of my l...read moreash line, and 2) the bristles are very stiff and hard - one misstep and you've jabbed yourself in the eye or eyelid with something quite harsh. I've tried repeatedly to use this with several different application methods and products and just can't make it work.
Back
to top