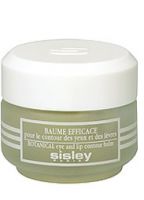 Sisley Eye and Lip Contour Balm
As low as
Works fast, but... parabens

This is my third review of Sisley products. I have also reviewed their Restorative Facial Cream and their Hydra-Global Intense Anti-Aging Hydration. I used all 3 of these products together from small samples given to me from the cosmetic counter at Neiman Marcus. I saw results - less fine lines, smoother skin - right away. So, they really are miracles in a jar. AND, I have no issues with itch...read moreing. They are good for sensitive skin. Worth the price. BUT, the woman told me they are "all natural. That is NOT true. Every one of these products has parabens in them. Parabens have been shown to mimic hormones in the body. This is one of the first ingredients that organic and more natural products get rid of. Parabens are especially to be avoided if you have a thyroid condition like myself. Since the standard of care is so poor for thyroid in the USA and Britain, at least, there are thyroid activists Mary Shomon and Janie Bowethorpe as well as groups. Other patients WILL help you.

Great for Puffiness and Comfort

This is a great product for relieving puffiness and redness and calming irritated or tired eyes. Look for other products because this is just outrageously expensive.
Back
to top