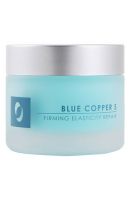 Blue Copper 5 Firming Elasticity Repair

I received this in the Total Beauty Collection. I am new to this line, but my research revealed this company is one of the first cosmeceutical companies. I have seen a difference in wrinkles I have developed since losing weight. The wrinkles are softened and plumped, and this is after using it for about 9 days. I use it morning and night to get the full benefit of its repair treatment. It fee...read morels good when applied, and absorbs immediately. It doesn't just sit on top of your face. I highly ecommend this product.

I like This!

I received this in my Total Beauty Collection. The sample size was very generous, I'd say you can get a least a months worth of use from the size given. The color of this product is a beautiful blue, very nice! It's thick but in a nice way as it absorbs very quickly. I used it at night only since I already have a day time regimen. It helped improve the lines along the side of my face, softened dry...read more spots and I must say my face feels tighter and fimer. I believe this a very nice product. The full size is a bit pricey but it may be worth the splurge.

so far so good

Received this in the Total Beauty Collection last month and have been using it almost every day since I got the package in the mail. At first I didn't see too much of a difference when it comes to fine lines (but I don't have too many in the first place, I'm only 22) but I did notice that when I got up in the morning and was feeling pretty groggy, that if I dabbed a little bit under my eyes it wou...read moreld clear up the puffiness really quickly and acutally helped me to look more awake! It also doesn't leave any shine after it dries or make my skin feel greasy, which is one of the things that will instantly make me stop using a product regardless of any other positive qualities it may have. I also noticed that it didn't make me break out, which it strange because my skin is extremely sensitive and I usually have to keep my skin care regimen to a bare minimum. Overall I love the product, it isn't heavy, it dries very quickly and it makes my skin feel soft.
Back
to top