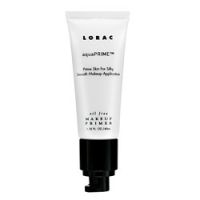 wonderful for dry skin

when i first used this primer, i wasnt too impressed. i was used to wearing a silicone-based primer that felt like spackle on my face. so when i used this liquid primer, i felt like it wasnt doing anything. however, after using it for about a week, my extrememly dry skin was more hydrated and i noticed that my makeup stayed on longer. its great under my bare escentuals makeup because it dries inst...read moreantly. i actually use it under my moisturizer as a serum because it has the sodium hyluronate in it to absorb the moisture. i think thats why my skin is so hydrated.

Another one bites the dust

It felt like gel on my fingers and on my face. It did not make me break out, but I thought primers were supposed to make foundation look better? It did not.

Good for sensitive skin

I have very sensitive acne-prone skin, and this didnt irritate it at all. It also helped my bare minerals foundation last all day, and i noticed i can use less product, and the powder is easier to apply, it just goes on my skin much smoother than without the primer. Also, it dries instantly, there's no wait time before putting my makeup on. It's pricey but it is good quality and it will last a long time since you only need a small amount each time.
Back
to top