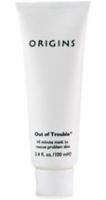 Smelly smelly smelly.

This is a good mask. Really. The price is alright, and what you would expect for a prestige brand like Origins--and Origins has lovely business ethics. The mask is fairly concentrated, and just a small dollop is enough to cover your face. It leaves your skin less oily and does wonders for my acne and complexion, plus it's relaxing because it imparts a tingling sensation on your face. But, the smel...read morel. Oh geez, the smell is awful! It smells like someone licked cough drops and stuck them on my face. Stars off for that.

The results are worth the smell

The Out of Trouble mask does exactly what it says it does. If you are breaking out it will significantly clear your skin. It does contain sulfur, which can make the smell a little strong, but it is totally bearable. I particularly like to use this mask when I "feel" a breakout coming, or when you feel that little lump under your skin that you know is going to turn into the concealer challen...read morege of the decade. I put some Out of Trouble on and then follow when a warm washrag to remove the mask. I would also recommend using this mask just after a shower so your pores are nice and open and you can soak in all of the wonderful benefits. If you get to the breakout with Out of Trouble in time you can avoid the breakout all together. I think of this mask as a staple in my skincare collection and it is my first step when combatting the inevitable breakout.

Origins Out of Trouble

Great mask! Not too expensive and it has a cooling tingly feeling on the face. I leave it on for longer than the recommended amount, and it leaves my skin super soft and smooth, and my breakouts instantly reduced. My blemishes look smaller after one use.
Back
to top