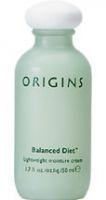 My skin has never been happier

I know that dermatologists say that you're supposed to wait about 8-10 weeks before you should make any judgement about a skincare product.....but I'm so excited! This moisturizer has really made a difference. It's lightweight and it balances out perfectly for my combination skin. My nose and forehead area(tzone) gets really oily but my cheeks are normal. Not dry, but not oily. I was skeptical to ...read moretry a natural product since I always thought that natural things wouldn't work on your skin, but this is perfect. Its natural and it works! I think the price isn't bad compared to other moisturizers and really, it's worth every bit of your money. You don't need a lot either so it will last you a while :)

don't waste your money

This lotion is so "balanced" that it doesn't do anything. It didn't irritate my sensitive skin, but it didn't moisturize my dry skin either.

Balances the oil

Balanced diet has really helped when my face gets oily in the Spring and Summer. It's a very light and non-greasy lotion and it helps balance my face throughout the day. However, in the Winter when my combination skin is a little more dry than oily, Balanced Diet tends to dry my face out even more. I suggest a slightly thicker lotion like Have a Nice Day" if you have combination skin that tends to be more dry than oily.
Back
to top