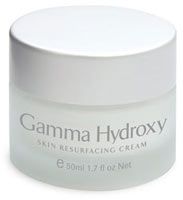 Skin Doctors Gamma Hydroxy
As low as
gama hydroxy

A wonderful product! I got the samples from the pharmacy two weeks ago. I will definitely buy it. Use it as a part of my daily routine with the makeup. My skin is combination with pores and prone to acne, although I am in early 40s (witn no wrinkles or scars).

Review subject

Make my face brighter

Excellent

Gamma Hydroxy is an awesome product. While it's thick consistency put me off at first, I applied a thin layer to my skin at night and saw *dramatic* results in just 4 weeks. My mild acne completely went away and the texture of my skin improved immensely. I have some acne scarring and this product has definitely helped reduce them. After using this for 6 months, my fine lines and wrinkles are much less noticable and my skin feels plump and firm. It is worth every penny.
Back
to top