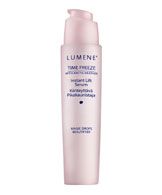 didnt absorb on me either

none of the 'time freeze line' seems to absorb well on my skin, maybe its too heavy duty for me b/c im under 30, i dont kno. it felt nice going on but then it sortof piled up, and rolled of in little waxy chunks. it made my makeup look patchy too, b/c of the uneven absorbing. i didnt use it long enough to see any results, firming or otherwise, because i cant wear make up with it. cvs took it back tho!

Like it!

A small difference in skin feel, small lines reduced. Gonna try it for a bit longer!

Lumene Time Freeze Instant Lift Serum

I haven't seen results from it yet but I can tell by the way my skin feels after applying this is one for me! Headed for my 60's I know sagging skin is in my future and I am so glad my future and I found Lumenes Time Freeze instant Lift serum!
Back
to top