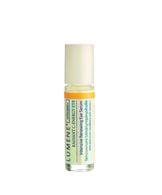 Lumene Vitamin+ Radiant C-Energy Eye Intensive Renewing Eye Serum
As low as
rollerball derby?

i love the dispenser here, the little rollerball thing feels so good....the liquid inside has a nice light citrusy scent and smoothes into your skin really fast. it doesnt take down puffiness very well but i use this one more to keep my under eye area moisturised all day. the ball is sometimes a little sticky to roll on enough liquid but you can push it a little with your finger...its the same. this feels good but i dont see any real change/benefits from it.

Like It / Don't Like It

I keep going back and forth on this product. Some days I like it, other days I do not. I liked the idea of the convenience, it is a roll-on, and that I wouldn't be actually putting my finger in the product to apply it. But it does not always come out right away which results in a pulling on the delicate under eye skin. Not good. So I roll it on my hand first to get it started, but the roller still...read more seems like it pulls or is even a little scratchy. I like the feel of the product, it is soft, feels clean and nourishing. I alter using this with another eye cream. Once it is used up though, I will not purchase it again.
Back
to top