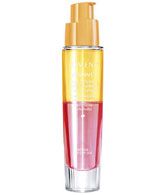 The best

I've been using this product for half a dozen years. Nothing comes close to Lumene. Loving it.

Amazing

I stumbled upon Lumene and after reading as much as I can about their products, I thought I'd give it a try. I bought this online and thought I'd try it out. After several reviews, I shake this as much as I can before using it. I first used this in the morning and realized I either used too much or this is making my face extremely gresy. So I was disappointed and thought that I might have to throw...read more this out. Before resorting to that, I then started using this at night, since I sometimes woke up with somewhat dry skin. I also figured that a little goes a long way. And spreading it out as fast as you can as it can feel that you might need more. It goes on your skin smooth and makes your skin so velvety that you will think you will need more. NOT the reason. It just absorbs really fast. I use this at night and then use Lumene - ExCELLent Future Deep Repairing Night Cream. I thought if this doesn't work when I wake up, then I guess I will throw this out. Boy am I happy I was wrong! When I wake up eveveryday with rosy pink cheeks that makes me look really healthy and glwoing! It is also not dry. FYI I live in a central air and heat apartment with no humidifier.

Very Nice

This was very nice. Not greasy at all and absorbs into my skin very easily. I haven't used serums much lately, but if I did I'd try this again. It's fairly inexpensive and does what it says. The capsules are nice, too, but I haven't used them for a long period of time, just a sample at CVS.
Back
to top