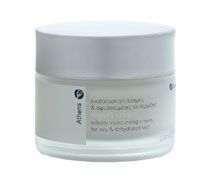 chill

I love this moisturizer. I use it mainly at night since it lacks SPF, and when I do I always feel refreshed. I keep mine in the fridge so it's always nice and cool for application and it absorbs very quickly so there isn't any greasy residue. I have no break outs from this and you don't need much at all to get the job done. It's pricy for the amount they give you but lasts a long time.

The BEST moisturizer

I can't say enough how much I love this product. My skin is so soft and glowing that I have been able to ditch some of my foundation bottles. A little bit goes a long way, so a jar should last at least six months. It takes a few minutes to fully absorb, but the end result is fabulous skin. I have had a hard time finding products that don't make my skin break out horribly. And the fact that th...read moreis company is eco-friendly and their products are natural is even better. For a thirty-something like me, this a a great "in between" lotion if you are too old for teenage skincare and too young for wrinkle creams.

Didn't think I would like it...but it's AMAZING!

I always like to add a disclaimer that I am big fan of most Korres products. I first bought this moisturizer as part of the Yogurt Regimine kit, and as such, it was the last product I tried. After using the White Tea Cleanser, the Yogurt Mask, and the Primrose eye cream, I though I had reached skincare nirvana. Then I went to try the moisturizer and was absolutely horrified to find that it looked ...read morelike melted marshmallow on my hands. As someone with oily skin, I've grown accustomed to the 'gel-cream' texture many companies offer. Then I put in on my face. Although I agree with other users that it is not the fastest-absorbing moisturizer, this made my skin feel fantastic. Its super hydrating without feeling greasy or making me shiny (which has always been a problem with my skin.) I would highly recommend this moisturizer to anyone who is oily! Initially, the texture may be a turn off to some. If you prefer a gel-cream texture, try the Korres Pomegranate Gel-Cream for Oily/combo skin, or the Clinique Moisture Surge, a longtime favorite of mine.
Back
to top