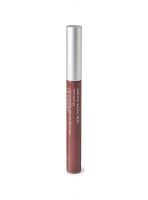 I was sceptical but it works!

This plumper works! It goes on and after a minute or two gets really tingly, almost annoyingly tingly. It tingles for about 5 mins or so, then right after I could noticeably see a change, especially in my lower lip. It gave new meaning to the phrase "just bitten" because it looked like the lower center of my lip had just been bitten all right. I also really like the shimmery color. Very pretty. Th...read moree second time I used it it didn't seem as tingly and I'm not sure if thats cuz my lip was still plump or if I had just gotten a little used to it. Either way, I'll continue to use It. Impressive results!

good plumping, great moisture

heals my dryness and dehydration related night chapping, plumps nicely and very delicate tingle. long lasting moisture too. dont kno if the mmpi helps anything, but thats just bonus ingredients in an already great gloss, imo. wish it was a wand and not a brush, but everything else is fab.

not the best

It doesn't sting, but it doesn't plump that much, the color is funky.
Back
to top