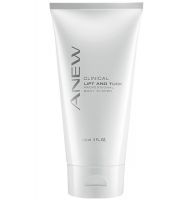 Love it!!

I had belly wrinkles which really bothered me. It smoothed out the wrinkles and made my stomach firmer. It also tightended my legs. I use it in conjunction with another cellulite product which tightens and controls cellulite all at the same time. The bottle should be bigger so you may want to buy 2 bottles at a time because you'll run out fast. Definitely worth trying if you have a sagging like I ...read moredo. My stomach looks much younger and I don't mind if my tummy peaks out of my shirt every now and then. That's say a lot being 36 years old.

Anew - NO!

This Anew line is mid-line pricey (at times) as is anything that DOES NOT WORK! Used a whole tube, and although the scent is great (smells like fresh-mown grass)I still had everything as it was before - not lifted or tucked!

It Actually Works!!!!

I absolutely love this product. I used to be a dancer and was extremely toned. But when I stopped, my body lost definition and things started to sag. My main problem was the area just underneath my butt, The skin was loose and I started developing cellulite (embarrassing!). I am a huge skeptic but decided to go for it anyways because I was desperate. To my surprise, the product actually worked. I...read more saw a huge in difference in as little as 2 weeks. The saggy skin was gone and my cellulite was reduced to a minimum. My butt looked firm and lifted, the way it did when I was dancing. Its like years worth of squats in bottle. It smells great too.
Back
to top