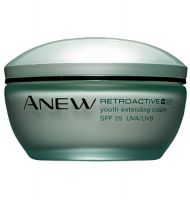 ANEW NIGHT CREAM by RENAYE

i think ANEW night cream makes my skin feel soft n smooth and replenishes it aswell, as im getting lines as i get older its nice to know theres acream out there thats works for me.

money well spent

This retroactive cream is really light and doesn't feel oily at all. It is lightly scented and has a high spf content than majority of beauty products out there. Avon's prices are a bit high, but just. I have never been dissatisfied with any of their creams I have tried out so far.

not for me

i haven't used it for a long term, but am writing my review based on my one time use. the smell is better than most spf day creams/lotions, but that's about all i like about it. it made my skin look greasy, so i will definately be returning it. i can't say anything about its effects over time. the texture was nice, so i will try using the night one for day and see if that works out.
Back
to top