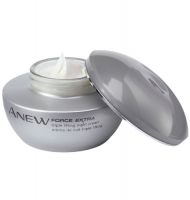 Best of the best

I used this day and night Anew Force triple lifting cream for years, and now Avon has taken it off the market! I have been trying other creams but nothing compares to this! Ikeep searching for it online, I am going to buy up when I can find it! I see they have one they are calling triple lift in a gold jar, I wonder if it is as good or better?

AVON Anew Night Cream truly makes a difference

This is one of my favorite night creams of all time. I noticed a difference in the appearance and the feel of my skin within days. It isn't too heavy and it doesn't feel sticky, like some others can. I have even put this on in the morning if I am not leaving the house (as it doesn't contain sunscreen like the day cream). The smell is not overpowering like some of the AVON Alternative creams.

Love this cream!

This cream goes on so smooth. Even though it is very rich, it does not feel heavy on my face and absorbs quickly. The next day my face looks so soft and supple and people ask how I have no wrinkles at over 40. My mom has used Avon creams forever and uses this and her skin looks so soft and smooth at 67. This is definitely worth a try and for the price you can't beat it. Avon is always having sales and promotions and I got this product for half off.
Back
to top