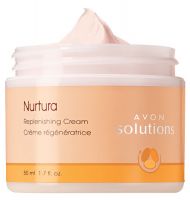 Decent!

Product claims: "This rich cream is formulated to replenish undernourished skin while you sleep so you'll wake to skin that feels softer, smoother, silkier." The directions say to use it morning and evening after cleansing. I bought this on sale for about $3.50 and definitely think it's worth the price. I just started using Accutane about 3 weeks ago, and have no idea how to deal with ex...read moretremely dry skin, since my skin has always been oily and hasn't ever been sensitive to products. The Avon saleslady said it's a big seller. PROS: I liked the scent initially... it moisturizes well. It's a pretty good sized tub for the price (even at regular price ~$8). You don't need a lot of product to moisturize well. Nurtura seems to keep my face moisturized for hours! The texture is creamy and rich, like body butter, but not greasy like generic sunscreen. CONS: Once I read the reviews about how Nurtura smells like mothballs/toiletcleaner, I can't stop comparing them (there is a similarity)!! It does leave slight shine/residue on my face, which I don't care for (not grossly greasy, but I prefer no shine). I like the packaging but would prefer a tube or bottle (more sanitary). While not really a con, I would note that I would NEVER use this product before I was on Accutane--it's too moisturizing for oily or combination skin. Overall, a pretty good product. If I can forget the comparison to chemical products like mothballs, I'll probably repurchase! :)

Olyish

I like this cream but its kinda lol bit oily but it's good cause I have really dry skin but it only moisturize for a while so might have to apply again but a lol goes a long way

Great Cream

I use this to moisturize after I clean my face. It's a nice thick consistency, and has a pleasant faint floraly smell to it. I use it every time I clean my face, and for the price it works just as well as the more expensive brands.
Back
to top