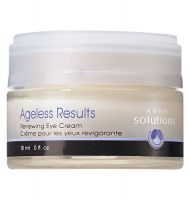 OMG THICKKKKK

you really, really gotta dig this stuff out of the jar, it is SO thick. it couldnt use it. nothing else to say!

OWWW! Stinging watery eyes!

I like Avon because they do have some good quality products at afforbale prices but this eye cream is not one of them. It is extremely thick and it leaves a weird oily residue. It doesn't really feel like it sinks into your skin. Worst of all it made my eyes burn like crazy. I don't have sensitive skin or anything but they must put some ingredient I react to in the whole Ageless Results line. I no...read moreticed my eyes were watery and tried to just ignore it and sleep but eventually I had to get up and wash it off. I wanted to be sure it was the cream and not my allergies so I tried it again a week later and the same thing happened. I ended up giving this to my mom. She has had better luck with it. Maybe it's a bit too strong for my 23 yr old skin. I won't repurchase.

Good Value!

The AVON Ageless Results Renewing Eye Cream is thick and creamy, but not overly soothing. It also bothers my eyes if I have had any recent allergy issues, so I tend to avoid it for that reason. I know several women who love this product, but if you have sensitive eyes/skin, it is probably not the best bet for you. The price is very reasonable though, especially on sale!
Back
to top