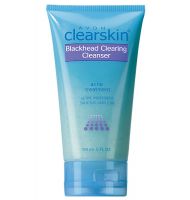 Great!

Great for the price!

I was really surprised

I tried this product because my mom sells Avon and sometimes she gets things for me to try, it helps if she can give an honest recommendation. Avon Clearskin Immediate Response Acne Cleanser is one of the best things I have ever used on my skin! I've tried lots of anti-acne products and this is one of the few that actually made a noticeable difference. I don't have blackheads, but I do get deep pa...read moreinful cystic acne, the pimples that hurt but sometimes can't even be seen. I put it on and leave it for about a minute, then rinse it off. It feels tingly and smells great. My skin is super soft and clean, without feeling dry or stripped of all moisture. I also like this product because it works on back acne as well, so I don't have to fill my shower up with more products. Hopefully my skin doesn't get used to this and stop working because I really like the results. I would consider trying other products in this line, thanks to the impressive results.

Love this product!

I tried this because I sell AVON and have always had problem skin. I was never covered in acne, but my skin ALWAYS had a few blemishes- and quite often, the painful, under-the-skin kind. I figured I would check out the line so I could tell my customers about it, but I didn't know how much it would help me. Go figure, it has been the best thing I've ever used for my face! I still get an occasional ...read moreblemish (around the *hormonal* time of the month usually! lol) but nothing like before! I am in love with this line and will continue to use it and recommend it to friends and customers. A+!
Back
to top