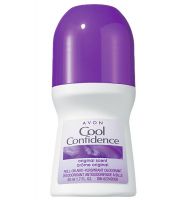 Didn't work for me

This product was just a wet gooy mess. It didn't do anything as a deodorantand as for being anti-perspirant, it ADDED wetness!

Better than the clinical ones on the market

This is a really great product. it has the same active ingredients as the ten dollar "clinical" ones you see popping up all over. At a dollar, this is a steal. It lasts through anything and has a very light scent. It dries quickly and doesn't leave any residue. It's also not chalky so you can wear sleeveless tops/dresses and it's doesn't leave a white outline in your underarms like some other roll on's do. Really a great, great product.

worked great

this was the first deordorant that i have bought from avon. i love how it just glides on . no residue . invisable. just gives you that cooling feeling and dries pretty quick.
Back
to top