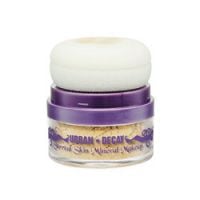 Urban Decay Surreal skin Mineral Makeup

This is a great mineral makeup for those with oily skin. Most other MMU lines are somewhat shimmery, which just makes you look more oily. I love the matte finish I can aquire with this product. It comes in some great shades that look real, not like a mask. It doesn't cake up, applies wonderfully and I don't have to use a lot of product to get a good finish. I don't have to continually touch i...read moret up either, and with as oily as my skin is, that says a lot. I don't really use the applicator that comes with it, I am able to apply it much better with a brush, but this is a product that I hope they always keep around. It took me quite a while to find a MMU that I realy liked.

Nice

But the lightest shade is dark.. There's also sparkle that I don't care for but coverage is ok

Great But Needs More Shades

This is a good mineral makeup that's more convenient than some because it has a build in buff puff for the face. The only flaw is that they don't come in as many shades as many people would like but it's flawless in finish, totally blendable, natural and safe for sensitive skin, and it's feels good to the touch. It can be put on top of liquid foundation or used for touch ups and it won't have th...read moree built up look at all. This is strongly recommended for those who have yellow undertones in their skin.