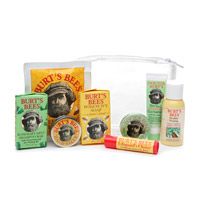 Sampling is good

I'm not fond of the bar shampoo but it was good to get a kit to sample a variety of products. I imagine this would be good for an outdoor excursion.

Natural (stinky) remedies kit is pretty good

I bought this on clearance at a Bartell Drugs in Burien WA. I like the chapstick, and the aloe vera lotion had a nice smell. I think the shampoo leaves alot to be desired and I would not use it again or reccommend it to a friend. I will definately purchase the full sized res-q ointment and had a lot of luck with it soothing cuts. I like the hand salve for after I have done a lot of yard work, it seems to soothe any weird plant reactions my skin has.

This kit is the most useful thing for camping!

I bought this kit before I went camping too. While we were in Yosemite, my boyfriend actually caught his hand on fire trying to light our lantern! The res-q ointment was the only thing that could get him to stop shaking from the pain! The lip balm leaves a slight white film on your lips though, which is the only complaint I have, but since it worked so effectively I didn't mind so much. We went hi...read moreking in the wind and not only did my lips not sun burn because of the spf, but they didn't wind burn, either (which has happened to me before during a long windy hike). I LOVE this kit and all of the products in it. The hand salve is the best feeling thing at the end of a long day in the outdoors and the toothpaste can actually be rinsed into a nearby lake or waterfall because it's all natural and doesn't hurt the earth.
Back
to top