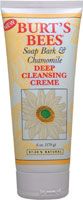 Yum.

I love how this smells-a bit herbal with lemon and flowers. The texture is nice, thick, and creamy. A little goes a long way, and you can't beat the price. I love Burt's Bees ethics, and the cleanser cleans well. It doesn't remove makeup too well, though. My face is left clean and smooth, as well as refreshed.

great for combo skin

Those of you with combination skin know how frustrating it is to find products that will clean up the oil without killing the drier areas of your face. This cleanser is the perfect product. I love the tingle and cooling feel of the cream, it washes most of my makeup, although eye makeup remover is still needed (wish Burt's Bees will make one). It gets rid of the oil without drying out my face. This is one cleanser I'm sticking with.

Effective, ethical, and oh-so tingly!

I always feel good about buying Burt's Bees products because it's a business that I really want to support. So, when I find something they've made that I really enjoy, I enjoy buying it repeatedly all the more. I've been using this particular face wash since searching for an acne remedy in my mid-teens and it is still all I use to this day. The tingly feeling you get all over your face from the me...read morenthol in this is amazing; it makes you feel like the product is hard at work and really wakes you up. I have pretty oily skin, so I usually wash my face in the morning when I wake up and right before bed as well; this facewash doesn't dry out my skin and effectively gets rid of that yucky oily feeling you get from waiting too long between washes. I definitely can see a dramatic decrease in the amount of acne on my face when I use this consistently and I'm really happy with the results. It's been at least five years going strong with this product now and I intend to keep buying it!
Back
to top