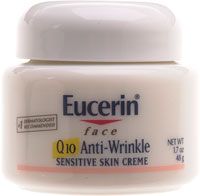 New stand by

I love this, and use it since Dove sensitive is off the market

buttery

I like using this in the winter when my skin is super dry. The consistency is like butter, very thick and yellow, It is fragrance free, but yes, the ingredients give off an odor that gets stronger the longer you have the product, sort of like "buttercream" scented candles. This is the natural butters in it oxidizing. I give it a star off because of the fact you can see and smell the product degrad...read moree over time, it needs to be in a tube. I pair it with the eucerin gentle cleanser for a simple skincare routine.

Happily Surprised

I am 26 with very fair, sensitive skin. I don't have wrinkles per say, but I certainly have expression lines forming that I want to start treating now while I'm still young and before they get to be too bad. Most skin creams make my skin go insane and break out (except for anything made by Cetaphil). I was hesitant to try this, but this is the only anti-wrinkle cream made for sensitive skin so I t...read morehought I'd try it out. I only use a little around my eyes and forehead at night and in the mornings but I have to tell you, the nights when I do use it, I wake up expression line free (or at least drastically reduced) versus mornings waking up without having put it on the night before. It's definitely one of those products you need to keep using to see long term results, but I have to say that the immediate results are great!
Back
to top