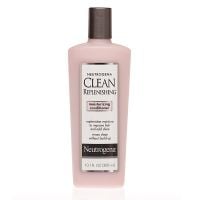 Editor's Rating & Review
The best ingredients for hydrating (panthenol) and softening (silicone) are out in force in this moisturizing conditioner. Dry, sun-damaged hair practically gulps in the yogurt-pink replenishing product. The problem is, although the package claims it "won't weigh hair down," it does. It takes quite a bit of effort to rinse out (so much for "rinsing clean") and for fine to normal hair, this formula is going to be way too rich to leave you feeling clean.
Reviewed by the Total Beauty editorial team on 09/25/2007

How we review products
too heavy for me

and i found the pink color "icky"

works well!

I like this conditioner. Nice and simple. Makes my hair soft and shiny.

not very replenishing

I didn't care for this conditioner. My hair tends to get dry easily and this did nothing to help. It didn't even seem to help with tangles - my hair was very difficlut to comb after a shower. Save your money!
Back
to top