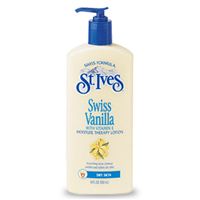 Editor's Rating & Review
Warning: Application of this vitamin E-packed moisturizer may attract mamas' boys and cookie cravings. Side effects also include over-application and constant urges to sniff or lick oneself. (Seriously, the scent is strong.) The rich, smooth lotion doubles skin's moisture without being too heavy or greasy. A pump bottle makes reaching lotion at the bottom difficult. I use so much, I have to buy two bottles at once. (At five bucks a pop, I can afford it.)
Reviewed by Charli on 09/28/2007

How we review products
Used to be a fave...

I loved this brand when in high school but have learned that all the chemicals it's made from is not good for me so I stick to natural brands like Origins or Jason. Make sure to check your labels!

For savvy vanilla scent lover

I prefer my body lotion to be unscented or lightly scented. But I don't mind this vanilla scent. Oh, yes, there are other vanilla scented lotions, but St Ives products are so affordable and easy to find. But the consistency is a little too light.

Great Scent and Soft Skin

I love the scent of this lotion and it definitely keeps your skin from drying out. The scent is of sweet vanilla and the lotion is absorbed quickly without being greasy. The formula hydrates your skin for a long lasting great scent and protection from dry skin.
Back
to top