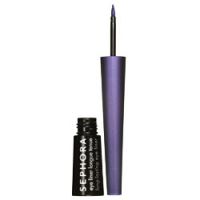 great!!!

I got this just to try cause my friend told me about it I don't use this as much but it works great I use it for when I'm In a rush cause it's really quick and easy I lived it I recommended this

Natural Looking Liner

If you are looking for a natural, not-too-harsh-yet-not-too-invisible liner, check out Sephora's liquid liners. I bought the brown metallic liner. Those in search for something more dramatic, I suggest to look at their matte version, or to search elsewhere. I haven't tried the more vibrant colors, but speaking on behalf of redheads and fair skinned girls whose face looks harsh with most eye makeup...read more, their metallic liner (earth-colored) is an awesome natural looking enhancer.

RE: It's all about the glam eyes!

I'm a huge fan of Sephora brand products, but this one is an all-time favorite. If you like the 'Old Hollywood Glamour' look with sweeping, dramatic eyeliner, then you should definitely try these. With a firm tip, it's effortless to apply and the hint of glittery metallic shimmer adds an extra bit of an edge to kick it up a notch. Plus, the long wear finish makes it almost 100% smudgeproof. The only bummer is that they don't offer it in a bigger array of colors.
Back
to top