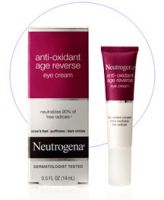 NOT for those with sensitive skin

I never realized I had sensitive skin until I used this stuff. I felt it burn a bit when i put it on, but I thought that was normal, but after about 2 days of use i noticed that the skin under my eyes was turning red and felt like it was on fire! I wouldn't know if it worked or not because my skin can't take it.

Huge difference

I saw a huge improvement from when i started.

Ambivilant about visible results

I suppose the anti-oxidants in this eye cream could have done me some good without my really seeing the difference. But after using the entire tube of this, I won't buy it again. I've since tried another Neutrogena product for my eyes. Its consistency is a little tacky, so I could only use it at night. Perhaps since I don't have much more than natural aging affects (i.e. expression lines), there wasn't a need for this yet.
Back
to top