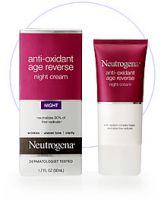 Not noticeable

Tried this. Can't see a difference. However, did try the new Neutrogena Ageless Restoratives Energy Renewal Hydrating Night Cream . And it is good. I would recommend using that over this. This one seems like it would be good because it's thicker and heavier. I have oily skin and I couldn't see a difference. However the Energy Renewal is a light gel-creme and I could see smoother skin after one use. Both smell decent. However, Energy renewal smells much better.

Commericals Sell

I must admit I bought this because of the commerical with Diane Lane. She is one of my favorite actresses. Unfortunately the cream was a disappointment. Other reviewers comment they don't think it has a smell, but for me the smell is the biggest turn off. For me it has some kind of medicinal smell I really find offensive. The cream has a soft quality I like, but it does not feel moisturizing, and ...read moreI certainly did not see any 'age reverse' qualities. Happy it was inexpensive. There are definitely better drug store brand creams available.

Nice product

I have super sensitive and acne prone skin. This night cream is very gentle and does not cause breakouts. I wake up with soft skin every day. I am almost finished with my first tube and will purchase again for sure.
Back
to top