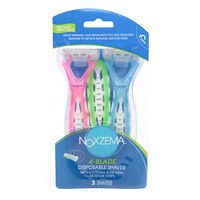 Very good razor

I like this razor a lot simply because all the razors I use I get an allergic reaction from. This was the first one I used where I noticed that the shave was clean, left my skin soft, and my skin did not itch uncontrolably.

They HURT !

I usually use Venus blades but needed something disposable so I went with these. I had about a 4 day stubble so I thought my shave would be nice and close. i shaved my underarms and it gave me razor burn on the FIRST shave. I shaved my legs and they are not smoothe AT ALL. In fact I can see where the razor totally missed hairs. And again, they are stinging as I write this. I trust noxema with acn...read moree products so it was a brand I was familair with and had faith in. I'll stick to the acne products only !

Worst razor ever

I thought these would be great since they're from Noxzema but they are the worst razors I have ever used. They didn't shave well at all and I received cuts both times I used them. I actually threw the rest of the package away and I don't believe in wasting things.
Back
to top