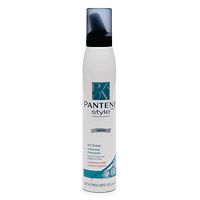 My Holy Grail Product!!

I absolutely love this mousse! It really does do wonders on my hair. I usually use a lot of this stuff, and massage it into the roots of my hair and then comb it through the ends. This mousse gives me galactic shine and leaves my hair feeling soft and volumized, even after straightening. Plus, I love how it keeps my hair still looking so clean, and there's no gunk whatsoever. Smells fantastic! Def...read moreinitely a product I will always continue to buy. The best part is, it's really cheap (I got it for under 3 dollars). LOVE LOVE LOVE it!!!!!!!!

Mousse crossings

I love this mousse! It leaves my hair soft, not stiff or crunchy. It smells great, adds plenty of volume and you just can't beat the price. Pantene Pro-V mousse can cross my path anyday.

Shine is not what I would say!

I still have not seen the shine yet. I have tried using a little and then using alot. I would like to know just how much to use. I have not tried the blow dryer yet after the use of this product, but that will be next.
Back
to top