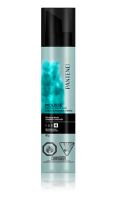 Pantene Pro-V Normal-Thick Hair Solutions Flowing Body Mousse
As low as
I had good luck :)

I purchased this mousse probably 6 months ago and came across it in my vast collection of beauty products. I was using a curl cream to let my hair air dry but I needed a little bit more control so I scrunched about an egg sized dollop into my wet hair and it was just what I needed! I considered using 2 dollops but the can said it was a strong BUT flexible hold so I did not want to overdue it but n...read moreow I know that I probably can as I found it to be a nice hold with perfect flexibility; I was not looking for my hair to be crunchy or weighed down. I also put it on my roots before I do a blowout and it works well. I have used other mouses before that seem good for just one thing; volume, curls, etc. This one is very versatile which I like. It is also not overly sticky in my hands which makes it so much nicer when applying. I would definitely recommend. Oh, and btw I have long, thick, wavy hair.

Not impressed

I was so excited when Pantene came out the a special line for thick hair, but I just wasn't impressed with this product. It doesn't give the body or have the hold I'd like.

Nice, but not my favorite.

Pantene needs to work on their line for thick hair. First of all, I have curly thick hair. So I bought the gel and the mousse. The gel and the mousse for their Medium-Thick collection claim to have the strongest hold out of all their new lines. Well for being their strongest hold, I figured that I would get nice shiny controlled curls, and I did, but not nearly as shiny as when I use Herbal Essenc...read moree and I wanted it to help enhance my curls and make them a little tighter, as my hair is getting longer so my curls are loosening, and it didn't give me results anywhere near the Set Me Up gel and mousse do from Herbal Essence. I'm not impressed. If this is their strongest hold, I imagine the one for curly hair is horrible. Herbal Essence gives my hair more shine, and tighter curls. This product didn't make my hair look bad, but I was expecting more. I even used their Frizzy to Smooth shampoo and conditioner, so I thought I would get better results.
Back
to top