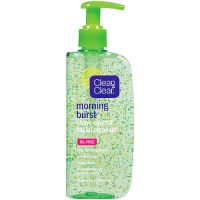 Not all the "feel like plastic" microbeads burst/dissolve

It has a lovely citrucy scent that is perfect to use in the morning. The cleanser doesn't lather up a lot, but it gives a clean feeling. Unfortunately, not all the green and yellow microbeads burst or dissolve, and it does not help against my adults acne. This may be a good cleanser for teens or tweens with oily skin. Secondly, I also have a problem getting the microbeads out of the pump. The more I used, the more beads stay at the bottom and the harder to get them out.

Shine control my butt.

Okay, very misleading title. My face got even more oily after using this. It cleaned it, I guess. My acne and oiliness remained the same. The "refreshing" smell is extremely similar to Palmolive, which isn't bad? Yet just a bit unsettling...

Don't Waste Your Money

This product sucks. Plain and simple. It smells horrible, for starters. It left my face shinier than ever, and it felt tight and filmy afterwards. In addition to all of that, it made my face break out. Immediately after I stop using this product, the breakouts cleared up. Such a waste.
Back
to top