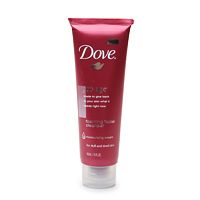 Excellent cleanser

I tried this cleanser when my skin was feeling a bit tight after washing it in the morning. My mom had it in the shower and I tried a little dab to add some moisture after exfoliating. I loved it!! I am 24 years old so I wasn't interested in the anti-aging benefits of the cleanser but it moisturizes very well and keeps skin hydrated all day. I love the scent (not too strong) and the fact that it d...read moreoesn't leave a residue on the face after rinsing. It leaves my skin nice, balanced and comfortable- even in cold weather.

Best cleanser

This is one of the best cleanser I have ever used. I am really sorry that dove stopped manufacturing it. I am 32 have mildly oily skin. It makes my skin feel very clean yet not at all stretchy. Great price for quality. the moment they start manufacturing it I am buying.

It's average

I don't see any noticable difference after using this facial wash for the last 3 months. It doesn't foam that much either, so I don't feel particularly clean afterwards either. I was hoping my skin would be more radiant, or something- but there was no change. I have combination skin and I'm 31. I do not have adult acne, and cannot speak to how this would effect that. I also do not have wrinkles yet, so I cannot attest to whether this wash makes a difference in that regard either.
Back
to top