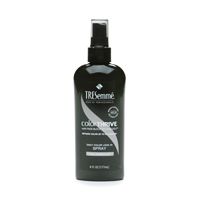 Actually does what it says!

When I consistently use this every time I shampoo, it actually does what it says; my hair color lasts a lot longer than if I didn't use anything. Definitely worth the price.

TreSemme

Fabulous product!

ColorThrive Color Lock In Spray Makes My Hair Limp

This product sounds like a good idea; but when I use it, my quick drying hairspray will not hold my style. I have very short hair and it just lies on my head after using this. The shampoo is great, but this spray is not. I can see where it would be great for coarse & dry hair.