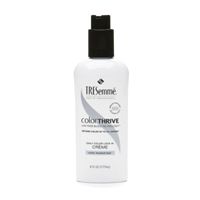 Really locks in color

Red is a really difficult color to keep from fading. I usually get my haircolor touched up every 3 weeks (I know, I know...) I may be able to extend this now. This product has done a fantastic job!

Wonderful

I have naturally brown hair but underneath is pink. The first time I colored it pink it started fading within a couple weeks, and thats with using a very good coloring brand and only washing my hair every 3-4 days. When I re-did my hair, I started using this and it made such a difference. It's easily doubled how long I have to wait to color my hair and then some. And it makes my very dead hair loo...read morek a lot healthier. If you color your hair I think it's a must have. It's easy and if it can make unnatural pink stay in my hair, it will work great for regular hair colors.

TreSemme

TreSemme Color Thrive does lock the color in somewhat, but it doesn't lock the color in much longer than if you had not used it.