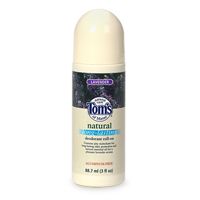 Great lavender scent

I love the fact that this deodorant has natural products but my armpits didn't seem like they smelled fresh all day. I reapplied this deodorant about three times in one day and I still didn't feel fresh. The lavender scent smells awesome and refreshing, the actual deodorant glides on smoothly, and does not leave any white marks or any residue on my clothes. I did not find myself sweating either but I just don't think I felt fresh in my underarms as I do with other deodorants.

Not enough

I only sweat minimally (I swear) and this just wasn't enough. This was an attractive choice for a deodorant after years of those rumors about the dangerous chemicals in a lot of anti-perspirants. Sadly, natural products just don't cut it. By the end of the day you smell like a mix of sweat and flowers and it isn't pretty. Even reapplying during the day doesn't mask odors completely. I'm sticking with my Mitchum.

Roll On OK

I love Tom's of Maine, but I do have to say I think some of their formulations have changed since they were purchased my P&G. The sticks never used to bother me, but now they make my underarms itchy and red, not sure what they did, but not so pleased. The roll on is ok, but I really don't care much for roll on's, as I perfer the stick. Goes on a little wet, but worked well enough in the long run.
Back
to top