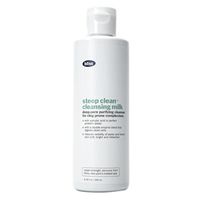 Thick but gives relief

I use this during the winter. It gives my skin extra relief. Used in conjunction with thicker moisturizers, it relieves winter skin. It takes some while getting used to the thickness of the cleanser, but it gives relief to that dry and tight skin.

This clogged my pores

I used this for a month ,awhile ago, really liking it at first, but overtime it started to irritate and clog my pores. I don't know if something in the product was effecting me or if using daily had caused a buildup under my skin. I would not use again. It smells nice though.

Does the opposite!

I used this product and after only a few days the condition of my skin deteriorated! My skin is acne-prone and I found it was too harsh, left my skin feeling sore and dry, therefore the results were the opposite of what I'd hoped it would achieve. My skin was left dry and broke out in lots of pimples. After stopping, my skin cleared up again and acne is under control. Didn't like the smell ei...read morether, thought it smelt very chemicaly. Much prefer the clog-dissolving cleansing milk for acne control.
Back
to top